Quizzes are a great way to have social, fundraising or team-building events for your club, organisation or just friends and family. At theQuizshop we provide everything you need to organise and run an enjoyable event − we provide the quiz so you can concentrate on the FUN!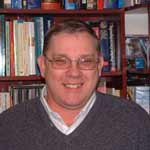 "I am often asked how I construct my quizzes - the answer is hours and hours of research! I have been creating them for over twenty years and try to cater for all age ranges, from teenager to pensioner.
My criteria for a quiz is that it should be difficult enough so that every question is answered correctly by someone, the winning team should get around 80% of the answers correct and the losing team hopefully no less than 50%. The subject areas I like to include range from the sea bed to space exploration, Beethoven to the Beastie Boys!"
Kevin Hart
theQuizshop quiz master
Search our Fun Quizzes
Our catalogue currently contains many general knowledge and trivia quizzes covering a wide range of subjects. With our powerful search technology you can quickly find the best match for your needs.

Flexibility so you can have the event that YOU want!
We offer three sizes of quiz to give you flexibility for your event. Perhaps an informal evening with friends and family, a social event with your company or a more formal fundraising event. Whatever you choose, a quiz from theQuizshop provides a great option for an event that everyone will enjoy!
Each quiz consists of 50, 70 or 100 questions divided into sections containing general, multiple-choice, or true/false questions. Each section may cover a range of topics but many will relate to a specific one, for example films or sport - every quiz on this site has a description of what each section contains. Some of our quizzes also have sections where all the answers are linked. For example, all the questions may have answers that are related to golfing terms or American Presidents, or all a section's questions could be picture questions.
What makes a GREAT quiz?
Creating a great quiz takes a lot of time, research and dedication. Here are just some of the things that experience has taught us make a really great quiz:
Difficulty: Our quizzes contain a range of questions so that everyone is involved … but also challenged!
Subjects: We like to include a wide range of subjects so that everyone can be an expert on part of a quiz.
Sections: Our sections are kept short − long sections on a subject you are not familiar with can be boring.
Questions: We work hard to ensure that questions do not appear in more than one quiz (but with the number of questions we have this may occasionally happen!)
Accuracy: Each question is researched from a minimum of two independent sources to ensure the accuracy of our answers!
We provide EVERYTHING you need!
When you buy from us you will get a question sheet with the answers, a question sheet with blank answers, a blank answer sheet without the questions and where appropriate a picture sheet. You can print as many copies as you need - with the confidence of knowing that each sheet will be customized for your chosen quiz.
So please take a look around our site, browse our fun quizzes and see what we have to offer. And if you register now we will give you a free quiz that you can download immediately - once you've registered we'll send you details about updates to our site and special offers in the future, unless you ask us not to.